Implants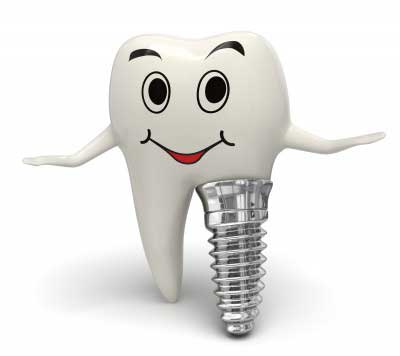 Dental implants are the most preferred dental treatment for missing teeth. Usually a simple dental procedure using anaesthetic. Central Dental Care can give you back your perfect smile and regain your confidence.
What is the procedure to fit dental implants?
A dental implant is an artificial replacement for the root of your natural tooth. This is fitted into a pre-drilled socket within your jaw bone. This is then used to secure a denture or bridge firmly in place.
Implants are made of titanium which is compatible with bone and easily bonds with bone tissue. The desired effect is the outer surface of the implant and the surrounding bone tissue will then fuse together, creating a stable support of the new teeth.
Once the implant has been fitted, it will heal and integrate with the jawbone for between six weeks to six months. During this healing process we can fit a temporary bridge. Soon after this we can then attach a temporary crown to the implant. The final stage when the surrounding gum tissue has matured, the permanent restoration can be fitted to the implant.
Our treatments are provided by our highly trained dentists in a relaxed, friendly and comfortable environment.
How long will my dental implants last?
Dental implants have been used many years by dentists to improve smiles. With proper care they can last a lifetime. Like normal teeth dental implant can still be damaged or affected by poor oral hygiene.
Based in Cumbernauld we serve patients throughout Cumbernauld the surrounding area, including Glasgow, Stirling and Lanarkshire.
Contact us today to find out more or to book an appointment.
Finance is available for private treatments.
Orthodontist Cumbernauld - Dentures Cumbernauld - Bridgework Cumbernauld - Valplast Cumbernauld - Implants Cumbernauld